RIBCAGE

 IS AVAILABLE NOW!

Thanks so much to our customers for making our pre-order event event a huge success! Our shipping backlog has now been cleared and new orders will ship as we receive them. We have even more high-res additions to our professional lens lineup, with lots more CS and C-Mount lenses being added. New C-Mount adapters for Canon, Nikon, Pentax, Sony and more are now available. Stay tuned for lots of great new content and some fun contests!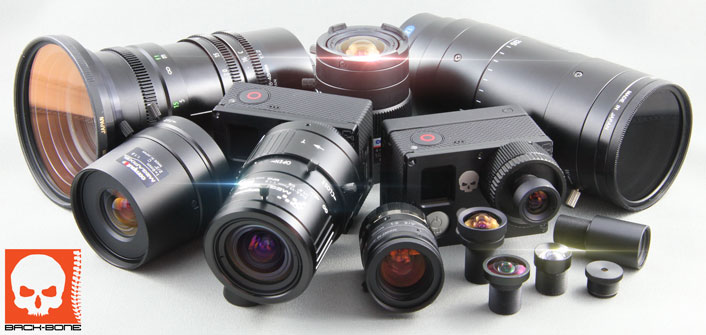 After several rounds of design changes, refinements and testing the Ribcage mod for GoPro Hero3 and Hero3+ Black is complete! The new design features a removable tripod mount with three mounting positions, adjustable flange distance for precise lens control and much more! Use almost any lens by connecting M12, CS-Mount and C-Mount lenses. Connect almost any other type of lens with C-Mount adapters. You'll be able to take full advantage of the great resolutions and frame rates of the Hero3+ Black, but now with manual focus and depth of field, making it a perfect solution for indie films and big productions that need to get cameras in tight spaces or are looking for a killer, cost effective solution. Its light weight makes it an ideal camera option for multi-rotor RC rigs!
blogok
SHOOTING THE MOON
GoPro probably didn't have this in mind when they designed the Hero3+ ! We finally had a chance to test out the Ribcage on our Telescope. These images and the video below were taken by attaching a c-mount to 1.25″ nosepiece adapter to our Celestron C6 750mm Newtonian Reflector telescope. No lens was used on the Ribcage. It's great to be able to see everything through a field monitor and not have to peer through an eyepiece. We can achieve additional magnification by using a barlow, however we didn't have one when this was shot.
PROJECT:

 RIBCAGE
INTERCHANGEABLE LENSES ON GOPRO HERO3+ BLACK!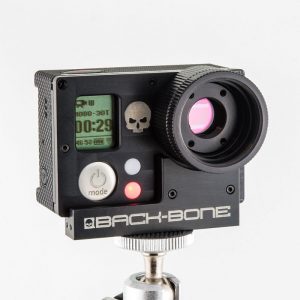 Our current lead project is the Ribcage mod kit for GoPro Hero3 and Hero3+ Black.  We all have been very impressed with the amazing capabilities of this intrepid little camera, from its small size, to its WiFi remote and camera syncing and its wide array of excellent shooting options. We see a great opportunity for a wider variety of filmmakers to make use of these features by constructing a new housing and accessories for the camera.  This will allow the user to not only connect any widely available M12, CS or C-mount lens, but also almost any other manual camera lens available via an adapter ring.
THE OPTIONS ARE ALMOST ENDLESS!
SO WHAT ARE THE ADVANTAGES OF THE RIBCAGE?
More Lens Options: The Hero3 cameras feature an awesome, crisp and sharp wide angle lens in order to capture all the action, but this may not be the look you're trying to achieve.  With the option to change lenses filmmakers can easily get any look they want from this great camera – and you can use the original lens too!
Depth of Field and Manual Focus:  To achieve a more cinematic look many filmmakers wish to use a more shallow depth of field, creating a 'bokeh' or blurred background and foreground.  By adding different lenses the user can now manually control the focus and F-stop to create the ideal look.
Zoom:  With a manual zoom or telephoto lens attached you can achieve sharp detail from a great distance, and perform zooming during filming.
Night Vision:  The Ribcage mod kit has a removable IR cut filter, allowing the user the ability of filming with or without the filter.  The benefit of this is, with the addition of an IR light source such as a battery powered IR LED panel, you get instant night vision!  All you ghost hunters out there can film in complete darkness and still control multiple cameras with the WiFi remote!
Use Your Old SLR Lenses:  How many of us have that old camera bag in the closet gathering dust? The optics and manual controls on most older SLR film camera lenses are excellent!  Why not breathe new life into them by using them on your Ribcage?  With the proper adapter ring you can attach almost any popular brand of manual lens to our mod, including Canon, Nikon, Pentax and more!
Affordability: Why dish out thousands of dollars for similar features?  Add our mod to your camera and have it all for a lot less money!  Use the extra cash to add more cameras to your production!
For the latest news check our blog page frequently, or follow us on Facebook and Twitter (@backbonehu).  Great things are coming!